Om je te herinneren aan de vrouw die je werkelijk bent
Een reis voor vrouwen die klaar zijn om een nieuwe laag van hun vrouwelijkheid te belichamen, hun vrouwelijke kracht te heractiveren, voorouderlijk trauma te doorvoelen en zo plaats te maken voor heling en ruimte. Om je te herinneren aan de vrouw die je werkelijk bent.
De vrouw die klaar is om haar authentieke vrouwelijke kracht terug te vinden. Zacht, liefdevol, wijs, vol zelfvertrouwen en enorm krachtig.
Jouw baarmoeder is een heilige plek, waar je al jouw wijsheden, je krachten, je vrouwelijke energie en de oorsprong van liefde plaatsvind. Maar ook is het een plek waar voor 7 generaties, trauma's, onverwerkte pijn, angst, spanning en verdriet word opgeslagen. Ze staat direct in contact met Moeder Aarde en de kosmos. In verbinding komen met je baarmoeder is verbinden met de diepste lagen van onszelf.
Gedurende deze 3uur durende reis zakken we dieper in ons bekkengebied en verbinden we met onze baarmoeder, we maken contact met wat er in jouw baarmoeder op dit moment leeft. Te doorvoelen wat gevoeld mag worden en loslaten wat jouw niet meer dient. Zo ontstaat er ruimte om vanuit een diepe verbondenheid de kracht te voelen om te creëren en te manifesteren waar jouw ziel naar verlangt. Om herboren te worden in jouw reis als vrouw. Puur, krachtig en heel, die thuis mag komen bij haar vrouwelijke essentie.
Gedurende de Womb Healing Journey, maak ik gebruik van coaching, cacao, visualisaties, ademwerk, soundhealing en reiki.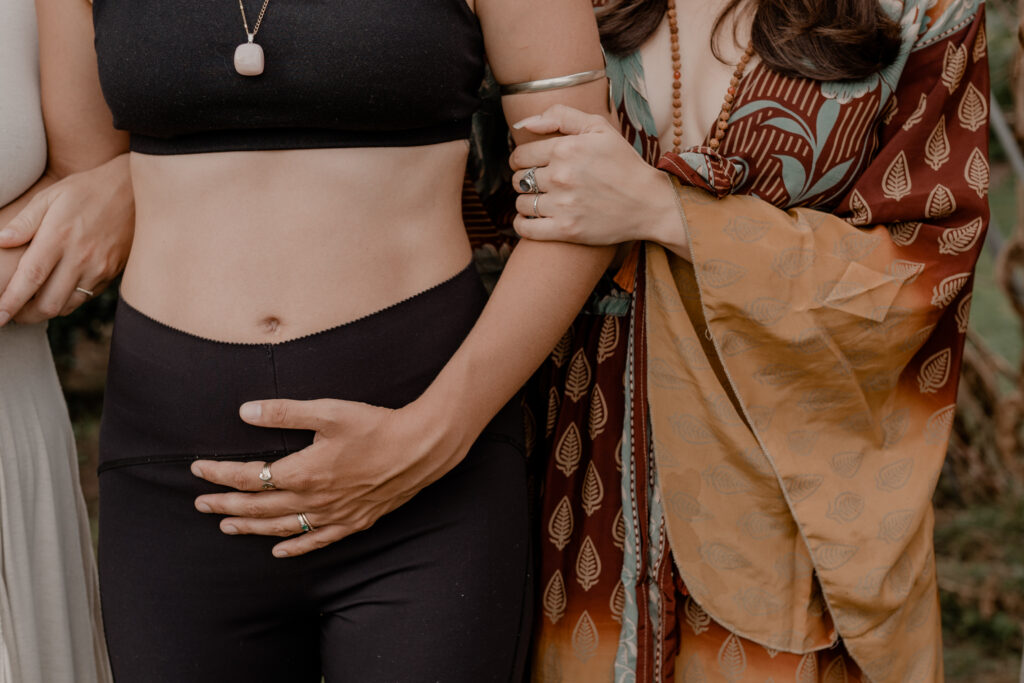 English:
A journey for women who are ready to step into a new level of feminine embodiment, ancestral trauma & healing.
Who are ready to reclaim their authentic feminine power.
Your Womb is a sacred place, where all your wisdom, knowledge and unconditional love is found. But also the place where for 7 generations the traumas and pain of all the women before you are stored.
During this 3h journey we will be using the breath, visualisations, soundhealing, reiki, coaching and the power of Mother Cacao.
Review
I have made great strides in my journey to reconnect with myself and learn how to love myself. I feel proud, I feel enough, I feel complete and balanced… But there was for months something I could not describe, somewhere in the background I felt a disconnect. What was that? In my heart I felt connection and joy but it felt as if a piece was still missing.
My life is beautiful, I have everything I could wish for and more. I am grateful for that every day. But the void of disconnect was growing deeper and louder… It felt like I was in front of a closed door and I had no key and no hands to even attempt to open it. It felt dark and empty.
I described that in one of my sessions with Caroline so she took me on a journey. To my womb. I have never thought about my womb. It sounded so abstract when she was inviting me to breathe into my womb space and settle in there. How? Where? I can't see it or touch it… But I felt it… Distant and vague but it was definitely there.
Finally.
The closed door burst open…
A dark heavy wave of emotions swept me mercilessly. Past physical traumas, abuse, neglected boundaries, feeling violated, unclean, unseen, unheard, unworthy… Things I didn't even realise I was harbouring in a space so sacred, in a space where I longed to connect with and one day welcome a child in… No child deserves to be brought on earth in a home like that…
Everything was happening at once and so fast but Caroline was there, she helped me feel safe, she helped me to believe in myself and my strength to carry myself through this wave without drowning. She guided me on the path of reclaiming my most sacred space, she helped me find that deep connection I have been longing for, for so long, without even knowing it.
This womb healing journey she took me on is something hard to describe with words. A woman can only experience it for herself. It is so personal.
The space that was created, the light, the joy, the beauty, the acceptance and forgiveness I felt after realising all the pain… Wow. I felt infinite. My love for this world is boundless.
The strength I felt after I regained my autonomy over my body is priceless. I feel light and open, sovereign, I feel deeply connected with myself and so, oh, so grounded. Like a tree that has finally found its roots. And they go down deep. So deep…
I have never felt more joyful and proud to be a woman, I have never felt so strong and so soft at the same time.
And how magical it was that all of this happened just as I realised I was pregnant… Everything happens for a reason and the desire I have had for this little soul for so long, gave me the courage to stand up for myself and face my demons. Because this is what women are capable of when we are empowered. And Caroline empowers you every step of the way.
We women are pure magic and Caroline can guide you to your source – trusting, loving, accepting and welcoming all that you are, never judging, never pushing you past what you are comfortable with.
Thank you, Caroline.
Anoniem